It's less than a month until work begins on the 5th Street bridge and you should start planning your commute.
Once construction kicks off on April 15th, the road will be reduced to a single lane with alternating traffic during the entire six-month process.
That means if you do have to use the 5th Street crossing, you will be seeing a detour.
If you're travelling out of the downtown area, you will be directed to drive north on Cliffe Avenue, then to the laneway below the Native Sons Hall, to 1st Street, then right on Anderton Avenue to the bridge.
The City of Courtenay says this detour will provide a waiting area for vehicles waiting to cross the bridge – or to make their way to the Condensory Bridge instead.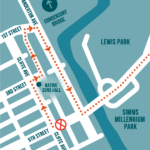 If you're driving downtown, you will stay on 5th Street when exiting the bridge and lanes on the east and west side of the bridge will be adjusted to create a spot for priority vehicles to go, such as B.C Transit and emergency crews.
For those planning to use the bridge by foot or bicycle, you'll see some minor delays as well.
The city says temporary walkways will be constructed on both sides of the bridge and cyclists using these walkways will need to dismount and walk their bikes across.
Cyclists will also be allowed to use the priority vehicle lane and ride across the bridge.
The sidewalk underneath the east end of the bridge between Lewis Park and Simms Park will remain open, but the underpass will be closed to vehicles.
Courtenay Mayor Bob Wells said maximizing access to the bridge has been a priority for the project since the beginning of the planning process.
"We've budgeted an additional $700,000 to keep one vehicle lane open," said Wells.
"The temporary walkways on either side of the bridge are another investment that will allow as many people as possible to cross the bridge on foot or with their bikes. This is a key link in the transportation network for the entire Comox Valley, and we're doing everything we can to keep traffic flowing during this necessary bridgework. We encourage everyone to leave extra time for their commutes, especially as work on this project gets underway and commuters adjust to new traffic patterns."
Courtenay says it's also working on plans for at least one park and ride location, but more information will be released as details are finalized.
To learn more about the 5th Street Bridge project, and how it might affect your daily routine, visit the City of Courtenay's website.