Here's a tasty way to support kids in the Comox Valley.
For every six-pack of hot cross buns purchased at the COBS Bread Driftwood Mall location on Saturday, COBS will donate $2 to the Comox Valley Child Development Association.
Additionally, COBS Bread will be sharing the goodness all this week leading up to their annual Doughnation Day on March 27th.
You can make a donation through the COBS online donation form.
For every dollar donated between now and March 27th, COBS will match it up to $10,000.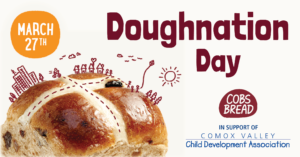 All proceeds will be given in the form of a cash donation directly to the CVCDA to support local child development.
COBS' generosity goes beyond this week. They donate their leftover baked goods at the end of each day.
You can find out more about the campaign here.
Its Facebook event page is here.
About the CVCDA
The Comox Valley Child Development Association is a non-profit organization locally supporting children with special needs and their families for 45 years.
In 2020, over 1,000 Comox Valley children and their families used services at the CVCDA.