Courtenay's curbside garbage, recycling, and yard waste collection schedule is changing after the May long weekend.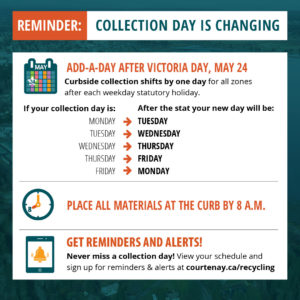 Starting the week of May 24th (this coming Monday), regular curbside collection moves forward one weekday following each statutory holiday.
This means Monday collection will move to Tuesday, Tuesday to Wednesday, and so on. Friday collection will move to Monday because there's no curbside collection on Saturday or Sunday.
Campbell Riverites will also be seeing the same change: "In short, you add a weekday after every stat holiday going forward," Campbell River city manager Deborah Sargent tells Vista Radio.
The next stat holiday is Canada Day – July 1st.
"Communities within the Comox Valley and the Strathcona Regional District are making this change because landfills will no longer be open on stat holidays," Sargent notes, "so contractors picking up garbage can't collect and dispose of garbage on those days."
Campbell River mayor Andy Adams recognizes that "it's going to be a bit confusing for the first little while."
"This was a decision to close landfills for financial and staffing reasons on stat holidays," he says. "If our contractors were keeping to the existing schedule, they'd have nowhere to put it."
And because the contractor can't collect two days' worth of garbage on the same day, all routes will move forward by one day to ensure that collection continues.
More details here.
* This change doesn't apply to Comox, because there's no Monday curbside collection in that town.