When driving down the Old Island Highway Courtenay-bound, chances are you've spotted Bob and Shaniece.
The mannequins have been standing next to the highway, out front of the DeBoef family home in Black Creek for the past few years.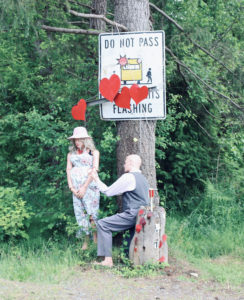 Mara DeBoef says her husband, Kevin, is behind the display. But it's not all for laughs and fun – there's a deep-rooted purpose: The couple's kids catch the school bus on the other side of the highway, and they often noticed drivers sped past "way over the speed limit."
"My husband decided to put mannequins up to try and just bring a little more visibility to the area, so the kids could cross the street in a little bit of a safer fashion," she explains.
At first, Mara was embarrassed.
"I thought, 'what are you doing?' This is crazy."
"Kevin's got a bit of a twisted sense of humour. He loves to play practical jokes and pranks on people," she laughs.
But it only evolved from there. Mara says neighbours started pitching in, adding to the mannequins costumes.
Of course, Kevin asked his wife for some fashion advice: "He tried raiding my closets… I put a stop to that real quick," Mara tells Vista Radio. "I redirected him to old Halloween costumes and stuff like that. Just whatever we could scrounge up and get our hands on really."
Currently, you'll notice Bob and Shaniece are expecting – Shaniece is pregnant, and Bob's proposing. But it's storylines like this that keep people engaged. Every now and then, Mara spots people pulled over snapping photos.
And while it may have started off being "totally random," Mara says there's more of a running theme now.
What's to come? You'll just have to wait and see. Mara says Kevin changes up the display every six to nine weeks, "maybe even every few months."
"We've definitely thrown around a few different ideas, so keep your eye out. I think there's a change in the scenario here coming up fairly soon," she adds. "I'm not going to spoil the surprise."