It's spooky season and a haunted house in the south end of Campbell River is stirring up quite a scare. It's apparently so bone-chilling, the man behind it all says people keep coming back.
"Everyone's loving it," Darren Walker tells My Campbell River Now. "It's fun, it's scary. It's not recommended for children, but teens love it."
Located on Terrain Rd., across from Oyster River Elementary School, 'Wicked Witch Way' is open by donation this Friday and Saturday, as well as Halloween Sunday, from 7 pm until 9 pm, with a giant witch greeting people as they enter.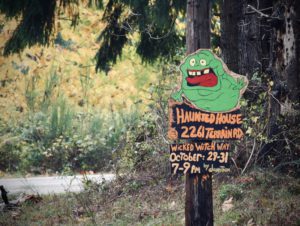 According to Walker, he and his family and friends have been putting on haunted houses, off and on, for the last 20 years. But this year, they've upped their game.
"This is our biggest one ever, it's over 450 feet long. It's all covered from the rain and spacious with lots of room," Walker says.
"My wife is running the entry. She's spacing everybody out so they can enjoy the jump scares while keeping their distance from each other."
RELATED: Halloween 'mega displays' on the rise in local neighborhoods: BC Hydro
Walker says this year's haunted house took a lot of hard work and determination. In fact, he says the team behind it all, a group of around 15 people, started putting it together well over a month ago.
"And we're still trying to tweak it and touch it up and make it better," Walker adds, as he thanks Coastal Black Winery for its donation, as well as his 'monsters' who helped make it all possible.