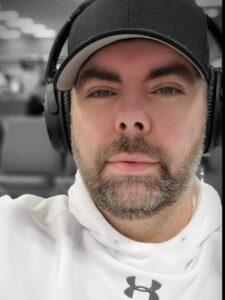 Yo it's Fitzy!
My parents bought me a toy microphone when i was about 10 years old… i took that thing everywhere. They regretted it instantly. LOL
I grew up in a Country Music house. They were HUGE fans, I watched the Grand Ole Opry Live way too many times. You know when your parents would let you stay up late to watch a special show? My Mom ALWAYS had SUPER-COUNTRY WX1130 cranked up on the living room stereo. Then, when i was about 12, I met Jim Fraser from WX. He was broadcasting from the grand opening of the new Safeway in Abbotsford. Now, he was my hero.
In junior high, i accidently fell into the role of PA Announcer at the Wrestling Tournament. That was it, I was addicted to hearing my own voice!
My highschool offered a Broadcast Media course, I met the best teacher in the world who set me up for success. A few contracts at sea on cruise ships as DJ and now i had the public service credentials needed. Back home and to radio school, 7 years in Edmonton doing evening radio and here i am back in BC and loving Island Life.
Where are the palm trees?
I look forward to a great summer without restrictions to meet all of you and to get to know the Comox Valley. I really appreciate you tuning in and letting me help start your day.
Tune in with Fitzy on 98.9 Jet FM weekday from 6a-10a.