Welcome to CV Sportslife: Your Ultimate Destination for Sports in the Comox Valley!
Are you ready to immerse yourself in the vibrant world of sports? Look no further than CV Sportslife, your go-to source for exhilarating sports coverage in the Comox Valley. Powered by 98.9 JetFM, we bring you exclusive insights, captivating stories, and inspiring interviews with athletes, enthusiasts, and organizers who fuel the passion for sports in our community.
Rev up your engines and get ready for an adrenaline-fueled journey like no other! At CV Sportslife, we have a need for speed, and the heart-pounding world of motorsports. From the iconic Saratoga Speedway Motorsports, we take you on a wild ride, capturing the thunderous roars, screeching tires, and high-speed maneuvers that define the racing experience. Feel the ground shake beneath you as we bring you up-close to the action, delivering the excitement and thrills right to your fingertips.
In the Comox Valley, hockey runs deep in our veins. CV Sportslife celebrates the grit and glory of this beloved sport. Step onto the ice with us as we delve into the world of hockey, where the clash of sticks and the thunderous applause of passionate fans create an electric atmosphere. Hear from the players who leave it all on the ice, as well as the dedicated fans who breathe life into every game. Get ready to experience the intensity, the camaraderie, and the sheer joy that hockey brings to our community.
But it's not all about the pros. CV Sportslife also celebrates the vibrant world of recreational sports in the Comox Valley. From casual weekend warriors to dedicated league players, we showcase the passion and joy that comes from participating in sports at every level. We bring you the stories of individuals who find their inspiration and fulfillment on the fields, courts, and diamonds across our community. Get ready to be inspired, motivated, and entertained as we explore the diverse world of recreational sports in the Comox Valley. Whether you're a racing enthusiast, a die-hard hockey fan, or a recreational sports lover, we've got you covered.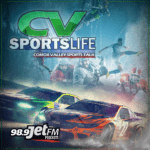 CV SPORTS LIFE - DANA TAYLOR COMOX VALLEY LIGHTNING - SEPTEMBER 2023

Sep 11, 2023 • 2:56

Dana Taylor from the Comox Valley Lightning Female Hockey Program joins Kent on the morning show to talk about their new program, increasing registration, and […]

CV SPORTS LIFE - SARATOGA CANADA 200 WRAP UP

Sep 5, 2023 • 10:37

Team Gary Marcus Trucking are in the studio to wrap up the Canada 200 Weekend, which included a disqualification, & a 3rd place car from […]

CV SPORTS LIFE - SARATOGA MID SEASON POINTS LEADERS GARY AND CHARLIE

Aug 15, 2023 • 6:57

We are just past mid season for the Bombers at Saratoga. Leaders Gary and Charlie visit and this time; a 'hint' of something being added […]

NORTH ISLAND FACE OFF - CHRIS ALBRECHT AND WESTON LANE FROM THE NORTH ISLAND JETS

Jul 24, 2023 • 10:28

Another chance to meet the team we affectionately call the JET FM North Island Jets. This time, Chris Albrecht and Weston Lane are in the […]

CV SPORTS LIFE - Gary Marcus & Charlie Ackerman July Report

Jul 18, 2023 • 11:06

Team Gary Marcus Trucking swing by the cockpit to chat with Kent about strategy, the tweaks, and the weekend's Twin 50's Bomber Invitational. PLUS, skill […]

CV SPORTS LIFE - IN THE COCKPIT - GARY MARCUS & CHARLIE ACKERMAN TALK "BATTLE AT BLACK CREEK" LONG WEEKEND

Jul 4, 2023 • 7:01

Gary and Charlie from Team Gary Marcus Trucking stop by the JET Cockpit to recap the long weekend at the track with their stock car:

NORTH ISLAND FACE OFF - KYLE CREW, LOGAN WALKER, LUC PELLETIER

Jun 29, 2023 • 22:18

3 talented players from the Comox Valley are taking very different routes in the hockey world. From Princeton University to Manitoba's Junior Ranks: Kyle Crew, […]

STOCK CAR RECORD TIME - CHARLIE ACKERMAN & GARY MARCUS

May 30, 2023 • 8:22

Charlie Ackerman now holds Saratoga's record lap time in his New Monte Carlo! Charlie and Gary chat about damage in the pits:

SEAN PHAIR - CANADIAN MEN'S MASTERS BALL HOCKEY & JET FM NORTH ISLAND JETS

Apr 18, 2023 • 16:47

A renowned hockey player with top notch skill and international experience. Sean Phair is next on North Island Face Off….

VALLEY VOICES - TIM PARSONS PRESIDENT OF THE COMOX 'MASTERS' BASEBALL LEAGUE

Mar 1, 2023 • 10:25

League prez Tim Parsons joins Schu to talk league history, and the upcoming ball season…