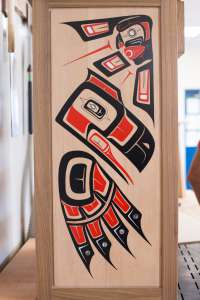 Stephen Mackie is carving out a new life through furniture.
Mackie graduated in June from North Island College's Joinery/ Cabinetmaking program in Port Alberni with renewed confidence in his own abilities an impressive collection of fine furniture he designed and crafted himself.
"This program is invaluable," said Mackie from his home in Port Alberni where he sits looking proudly at the pieces he created over the past year. "It's goes beyond skills, it created a structure for me and has shown me a different life."
The Osoyoos Indian Band member was adopted and grew up away from his birth family. He worked in Kelowna's orchards and moved to the Vancouver area, where he hung out with friends, including a group of First Nations carvers, who one day asked if he could draw.
He took to drawing naturally, at first emulating established artists and creating his own designs for paddles and jewellery boxes, which he eventually carved himself, on and off, for years.
He moved to the town of Ucluelet a couple of years ago, hoping to sustain himself with his art.
"I was good at it right from the start," Mackie said. "I never had a problem getting into galleries. I introduced myself with my art and looked for that 'wow' reaction. That's what made me strive to create the next piece, each time I wanted a different reaction – a different wow."
His earnings, however, weren't enough to sustain his young family through tourism's off season and he began to think about ways to develop his skills and employability.
He contacted the Osoyoos Band for education funding and went back to school at NIC's Port Alberni campus, looking for a way to blend his art with furniture design.
"This program definitely combined the two," Mackie said. "I didn't even know I had an eye for designing fine furniture."
He credits instructor Stephen McIntosh, a WorldSkills International skill advisor, for teaching him to safely use and design furniture with manufactured hand and power tools which Mackie complimented with his own hand-made carving tools.
McIntosh also inspired him to produce higher quality work and gave him the freedom to design his own projects.
"I like to give students permission to try new things, to push themselves beyond their experience level and to experiment," said McIntosh. "I work with my students to explore each of their goals further. Steve wanted to take his carving and painting and turn it into functional art. He was very committed to his work."
As for his future, Mackie says the program gave him the skills to move back to Penticton where he can get to know his birth family, establish a workshop, and build on the skills he's learned throughout the year.
For more information on NIC's Joinery / Cabinetmaking programs, visit www.nic.bc.ca/trades.
(North Island College)