UNION BAY, B.C- An official policy on public closed-door meetings in Union Bay will be coming later on this year.
That's according to the chairperson of the Union Bay Improvement District (UBID) board of trustee's, Peter Jacques.
Earlier in April, Jacques spoke with 98.9 The Goat on the trustee board's practice of "executive meetings", which had come to public attention after residents of the area were physically blocked from attending a gathering of the trustees at the UBID office.
"Our Bylaws and closed meeting policy makes reference to separate meetings and special Board meetings but not always include "In Camera" sessions," said Jacques, in a previous written statement.
"It is the Boards intention to clarify and add to the intention of this policy by rarifying our Bylaw to reflect the term "Executive Meeting". It is also the Boards intention to not impose "In Camera" sessions in these meetings except only when necessary."
Jacques said the board was considering the decision due to difficulties in getting business done while the public is present at their meetings, and indicated that the UBID is now considering regularly holding "executive meetings" of the board, where the public will not be invited.
The rough plan for the meetings was for them to be held the first Monday of every month, closed to the public. However, they would have public agendas and minutes would be taken. Those minutes will then be shared with the public at the next meeting of the board.
British Columbia's Ministry of Municipal Affairs has said that "executive meetings" are not a legislated term, though there were certain circumstances in which the public would not be invited to a meeting.
Speaking last Thursday, Jacques said that policy on the meetings would be addressed in the next few months, and stated that he believed it would be approved. It would take a majority of the board to send it over to Municipal Affairs for final approval.
At the time, he said the pending election for now-former trustee Jim Elliot's spot would need to be finished before a policy was considered. That election is now done, with Elliot losing to Ted Haraldson, with 242 votes to Haraldson's 274.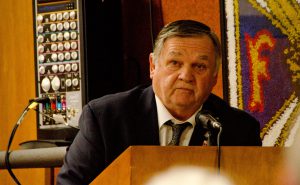 A swearing-in date for Haraldson has not yet been determined. Gordon Mason, the administrator for Union Bay, indicated it would take place before the board's next regular meeting.
As for the concern of the public being shut out from regular meetings, Jacques indicated that wouldn't take place.
"It'll never come to that," said Jacques.
He also re-stated that the board found it hard to get "any kind of business done", making a reference to the use of profanity during meetings from landowners.
"I'll leave it at that. There is no big conspiracy here to hide anything from the public."
The next meeting of the board will be on May 24, 2018.