COURTENAY, B.C. – A house in East-end Courtenay that was the scene of a police standoff in May has been sold.
Advertised as a 'handyman delight/fantastic flipper,' the 1700 sq. foot house at 475 Panorama Crescent was originally listed at $399,000, but after three weeks the price dropped to $360,000 and there were multiple offers, noted realtor Marie McCooey.
"We decided because of… the amount of stuff in there and the fact you could barely walk around, it looked awful," McCooey told MyComoxValleyNow.com. "We dropped it to 360 (thousand) and had five offers."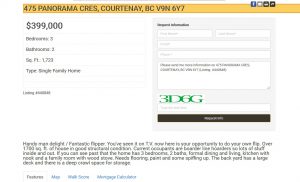 When it was listed, the home was full "floor to ceiling of stuff," McCooey said.
"It hadn't been dusted in 100 years, that kind of thing."
Late last month, the street was full of police officers after a resident had been shot at following a confrontation with people believed to be linked to the home.
After the shots were fired, Comox Valley RCMP descended on the street and a standoff ensued, which ended with a handful of people arrested.
The online notice for the sale stated that the current tenants were "borderline hoarders."
McCooey said in late May that there was a "lot of stuff" in every room of the house.
"There's a lot of furniture, there's a lot of personal belongings, there's about 200 bicycles out in the backyard, because somebody collected bicycles or fixed them or sold them, I don't know."
But the home has many attractive features, according to McCooey.
"It has three two full bathrooms, three bedrooms, living room, dining room, kitchen, family room… it probably would have been (listed for) around 500 (thousand) if it had been in good shape," McCooey said.
Once the house was put up for sale, McCooey said neighbours were "more than happy" to see it listed.
"I had the neighbours phoning me right after we listed it, thanking me," McCooey said. "It is good news. The neighbourhood is really going to like it."