COURTENAY, B.C. – One woman suffered a minor injury to her legs following an incident at Stotan Falls Sunday afternoon.
"Just after four we got called to Stotan Falls for a patient in the water. When we arrived we found that a female patient was stuck on the rocks uninjured but unable to get to shore," said Courtenay Fire Captain Greg Lamb.
Lamb said he's not too sure what the woman was doing there but noted she was with family members.
"They were probably just out for an afternoon swim and came into an area where she (the patient) wasn't able to get back," he said.
He estimated that the woman was in her thirties.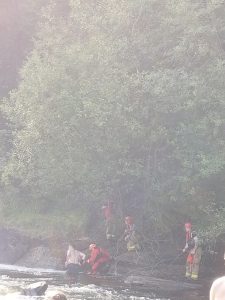 Comox Valley Ground Search and Rescue (SAR) were called in to the scene, as was BC Ambulance.
"We secured the scene, set up downstream containment and we made contact with the patient, Ground SAR was on route, as they are the water rescuers," Lamb said.
"They go into the water, grab the patient, bring her to shore, then our crews use the ropes and our mule wheel and stretcher to bring her to BC Ambulance."
Lamb noted that the woman suffered abrasions to her lower legs, but was fully conscious and alert throughout the entirety of the rescue. She suffered no other major injuries.
Just last month, crews responded to a similar incident along the Puntledge River near the falls.
RELATED: Search and Rescue saves man trapped on rock in Puntledge River
Lamb said the woman was out of the water and loaded into a BC Ambulance by about 6 p.m.
-With files from James Wood
EDITOR'S NOTE: This story has been adjusted, following feedback from the family of the patient. The MyComoxValleyNow.com newsroom has reached out to the family for more information on what occurred during the incident.