COURTENAY B.C -The Royal Lepage Snow to Surf Adventure Relay took place Sunday afternoon in the Comox Valley and saw 138 teams compete in the event.
The official results are in, and the Island Honda Banzai team finished first with a time of three hours, four minutes and 42 seconds.
RELATED: https://www.mycomoxvalleynow.com/53691/team-island-honda-banzai-wins-25th-royal-lepage-snow-to-surf-relay-race/
The second place team, Ski & Surf Shop Tsunami finished 10 minutes behind them at three hours, 14 minutes, and 12 seconds.
Overall, 138 teams participated in the event, and organizer Rick Gibson said he looks forward to future races.
"We're already talking about conceptual changes for next year, possibly costumes, possibly a recreational category."
He also added that it was nice to see residents come out and enjoy the race.
The results from the race can be found below.
OPEN CATEGORY: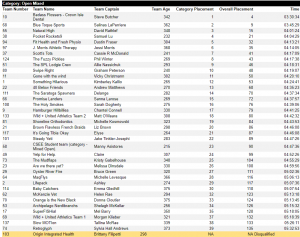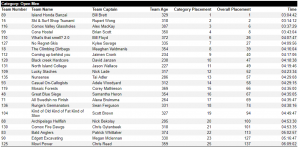 MASTERS CATEGORY: 
GRAND MASTERS CATEGORY:
JUNIOR/GREAT GRAND MASTERS CATEGORY: 

MILITARY CATEGORY:

All images sourced from http://snowtosurf.com/race_results_by_year.php?year=2019.