COURTENAY, B.C.- The air quality advisory that was put in place amidst heavy fog last week has been lifted.
The Ministry of Environment and Climate Change Strategy, in collaboration with Island Health, have deemed the air quality in Courtenay safe.
However, open burning restrictions remain in effect until Monday, December 11th.
"As pollution may occur from open burning," read the statement.
"The Director has suspended the exemption in the Open Burning Smoke Control Regulation that allows for open burning of debris to occur without a permit or approval from the Ministry of Environment."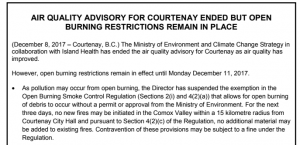 Until Monday, no new fires are allowed within a 15 kilometre radius from Courtenay City Hall.
Visit www.bcairquality.ca for more details.