CUMBERLAND, B.C. – The Village of Cumberland wants to know who vandalized its trees.
According to Sundance Topham, the village's CAO, trees were destroyed and damaged along the safe biking and walking path to the Cumberland Forest from the Cumberland Recreation parking lot.
The incident happened sometime overnight on Thursday, June 14th.
"The trees were new as of this spring. We put a dedicated bike lane in, and added the trees to it," he said.
"It's too bad that people feel that they need to destroy nice things, and that dedicated bike lane and the new trees are an amenity to the community, so it's unfortunate that people feel the need to kill them."
Topham said the plan is to move forward and replace the trees.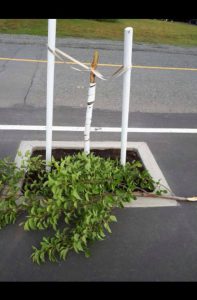 "We can't let vandalism stop it. It's just unfortunate because it costs money, but we will be replacing them," he said.
Topham and fellow staff members are asking anyone with further details to contact the Village of Cumberland.
"The village doesn't have any security cameras on the street there, we're hoping maybe one of the neighbors has some information they can provide," he said.
Topham noted that a report has been filed with the Comox Valley RCMP.