CAMPBELL RIVER, B.C. – The Campbell River Storm have lived to play another day.
Reid Wheeldon's goal 1:16 into the third overtime period lifted the Storm to a 3-2 win over the visiting Peninsula Panthers in Vancouver Island Junior Hockey League (VIJHL) playoff action Tuesday night at Rod Brind'Amour Arena.
The marathon OT win gives the Storm a pulse in the best-of-seven, opening round series.
The Panthers take a 3-2 series lead into Friday's game at North Saanich's Panorama Arena.
At this point, the Storm is in survival mode. They will have to beat the Panthers on Friday to stay alive and force and seventh-and-deciding game on Sunday at Rod Brind'Amour.
Based on the shot totals alone, the Storm were deserved winners on Tuesday.
They outshot the Panthers 45-25, and led 1-0 after the first period and 2-1 after 40 minutes of play.
The Panthers' Tanner Wort tied the game at 2-2 with 4:14 to play in the third period.
Pearce Messer and Tyler Chyzowski scored for the Storm.
Chyzowski's goal, off a nice feed from Josh Pederson, put the Storm ahead 2-1, and came 27 seconds after Wort tied the game at 1-1 on a Panthers' power play.
The series matches the VIJHL regular season champion Storm (34-10-3-1) against a Panthers squad that finished last in the South Division with a 14-25-4-5 mark.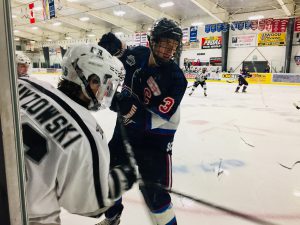 Storm to host Cyclone Taylor Cup
Win or lose, the Storm's season will continue.
That's because they will be hosting the 2019 Cyclone Taylor Cup in April.
The round-robin and medal games will be played at Rod Brind'Amour from April 11 to 14.
The Cyclone Taylor Cup pits the top Junior B teams in the province and the host team in a round-robin tournament, culminating in the medal games.
Along with the host team, the VIJHL champions, the Pacific Junior Hockey League (Lower Mainland and Fraser Valley) champoions and the Kootenay International Junior Hockey League (Kootenay, Okanagan/Shuswap, South Cariboo and Eastern Washington) champions will be competing in the tournament.
The 2019 Cup will mark the fifth consecutive year that Storm have participated (gold 2015, silver 2017, and bronze 2016).