A scary situation at Lewis Park today. According to Comox Valley RCMP Constable Don Sinclair, rescuers pulled a mother and child from the Puntledge River.
Crews worked hard to recover them and after a long search, they finally did.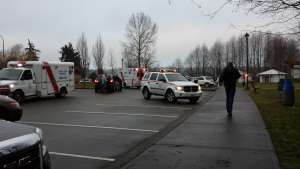 Despite the efforts of multiple rescue and medical personnel, the 26-year-old Comox Valley woman pulled from the water did not survive.
The woman's 7-month-old son, also rescued from the waters, was airlifted to BC Children's Hospital, where he remains at this time. His condition was last listed as critical.
Investigators continue to look into the events leading up to this incident. Anyone who may have witnessed the pair near or in the waters of the Puntledge River prior to 2:40 pm on January 30th, is asked to call the Comox Valley RCMP at 250-338-1321.
The BC Coroners Service has assumed a lead role in this investigation, with continued assistance from the Comox Valley RCMP.  The identity of the woman will not be released at this time.  No further updates are expected in this case, prior to Monday, February 2nd.