COMOX, B.C- A major addition to the Comox Harbour promenade is finding support at Town Hall.
According to the agenda from a recent meeting of Comox council, the town's municipal government is looking to make a few upgrades to the local attraction.
The addition of four new platforms, a 33-metre extension of the main walkway, and the addition of a large gazebo at the end of the extended walkway are some of the main features, along with electrical upgrades and washroom facilities.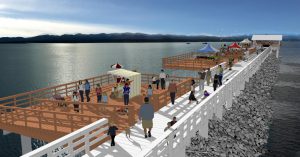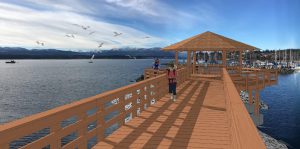 The project's rough cost, according to the presentation given to council, was around $920,000. This was with four platforms costing $160,000 each, the extension costing $80,000, and the gazebo at $200,000. Other aspects of the project, such as geotechnical engineering and construction management, were not included in the cost.

Comox mayor Paul Ives was supportive of the idea, and indicated that the Comox council had directed staff to refine the concept. Ives stated the aim was to have the design "fully fleshed out" with public input, and have it "shovel-ready" in the event of funding becoming available.
"We're going to hopefully see other infrastructure funding become available," said Ives.
Overall, Ives liked the expansion of the harbour space, and the possibility of making it a more friendly and welcoming place. As for the actual work, he stated that council was hopeful the project could be phased in over time, possibly starting with pilings for the walkway extension.
However, the expansion would require more infrastructure funding.
"The short answer to that is that we don't have room there right now," said Ives.
"We'll hopefully have a positive step forward with design work, consultation, and shovel ready, so that when there are funding opportunities, we're ready to jump on those."
An open house including the proposal will be held in May.