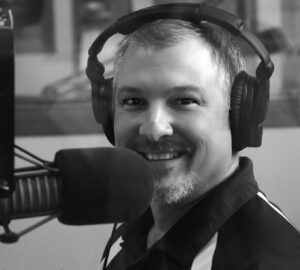 Hey there, my name's Kent Schumaker. I am the Program Director and your Mid Day Show host for the Jet.
The radio life is an interesting adventure as many would tell you. I'm originally from the Island; born in Victoria. Went to Oakland Elementary until grade 2. Then off to the Fraser Valley for most of my youth.
I caught the radio bug in my early teen years, and it's taken me from the Island, Squamish/Whistler, Yellowknife, Red Deer, Grande Prairie, Peace River for 10 really fast years, and now….back where it all started, really. I couldn't have chased this crazy dream without my stellar spouse, Tawnia. She has worked in Adult and Youth Corrections and taken care of babies, watching them grow into their school years. A lot of good friends have become family because of Tawnia's work.
We have two boxers. Females. Sisters. They're a handful. It takes a lot of energy to own these types of dogs, and we love every minute of it. I've played recreational and competitive hockey most of my adult life, and the Comox Valley has some of the best hockey around, that's for sure. I currently play goal for the Lordco Islanders and the Timberhounds in the Comox Valley Hockey League. Plus, a couple of other teams like to have a target every now and then!
When it comes to movies/entertainment – I'm a sucker for a good Investigative Reporting Documentary or series. I'm a huge Hockey and Football fan. For books, I'm a sucker for a good autobiography on any musician with a good story to tell. The best one I've ever flipped through was 'Red' – Sammy Hagar's autobiography.
We have a really great team here at the Jet and I'm grateful for each of them. They bring some really cool ideas, and they bring their passion every single day. The listeners in the Valley do the exact same thing. The amount of feedback I get from Jet Listeners is incredible. Keep it coming. We're building this for you! Thank you for the opportunity.