COMOX VALLEY, BC- It's an exciting time for the Comox Valley's Project Watershed.
The group has received a five-year grant from the Fisheries and Oceans Canada (DFO) Coastal Restoration Fund. The grant is worth $689,000.
It will be used to increase habitat connectivity for migrating fish along more than 120 kilometres of shoreline, from the Oyster River estuary to south of the Nile Creek estuary, at Annie Creek.
Crews will map and restore marine habitats, specifically eelgrass, saltmarsh and kelp. These play an important role as a corridor for fish to migrate and help protect young salmon.
"We are thrilled to have the opportunity to make a positive change in salmon habitat," said Christine Hodgson, Project Coordinator, in a release.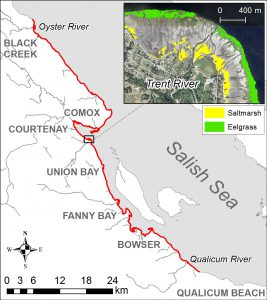 Local community groups will get involved with the project and will compare historic and present-day distribution of habitats to assess target areas for restoration.
"The success we have had with restoration projects in the K'omoks Estuary involving these three vegetation types has contributed greatly to our success in securing this funding," said Dan Bowen, Project Watershed's Technical Director, in the release.
An information session will be held on March 2nd from 1:30 to 4 p.m. at the Westerly Hotel. Anyone looking to get involved in the project or seeking more details can RSVP to Amy Firth at [email protected] by February 26th.
To learn more about Project Watershed's local initiatives, visit their website.
The grant comes as the group continues to work on their Kus-kus-sum project, to restore the old Field Sawmill site to its natural state. More details on that project can be found through this link.