COMOX, B.C- Captain Stefan Porteous went back to school this morning.
Porteous is the pilot for the CF-18 Demo Team currently practicing in the Comox Valley for the upcoming air show season, along with the Canadian Forces Snowbirds.
He was born and raised in the Comox Valley, and attended Aspen Park Elementary School and Highland Secondary while he was growing up.
He paid a visit to those schools today, along with the rest of the demo team mechanics.
While answering questions at Aspen, Porteous told the students he flew glider aircraft before being able to drive, after joining the local Air Cadet squadron, 386 Komox, at the age of 12.
He later got his private pilots license, and flew Cessna aircraft out of the Courtenay Airpark at 17.
He said that it was fantastic to be back at his old school while at Aspen.
"To see the little kids faces light up is really special for me," said Porteous.
"That's really what we're out here to do, obviously, is to inspire the next generation. It's also very nice to be back in my old gym, this was my middle school, which is now an elementary school, so that's cool, to see the old paint job. Not much has changed, although it's been quite a few years since I've been here last."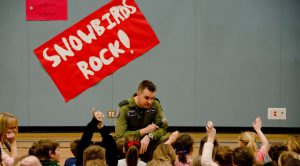 As for how it felt to be flying over his old schools in a CF-18 Hornet, Porteous said it was awesome.
"I don't have a huge amount of time to be focusing on other things than avoiding the ground and flying a good show, but sometimes, if I take a wider reposition, I'll have a quick peek down and think, oh, you know, I had this memory there and oh, my friends parents live there," said Porteous.
"That's kind of cool."
Porteous mentioned that cadets from 386 Komox had paid a visit to him at 19 Wing earlier in the week, which he said was "very special".
"I remember being that little cadet, on the other side of the conversation, when a Hornet driver came down," said Porteous.
"We came out and had questions for him, that was really, really cool. Hopefully, they enjoyed it as much as I did."
He also said it was good to be able to visit his mother and father, as well as old family friends, while working on the airshow routine.
"Hopefully people have been enjoying it and not too bothered by the noise."
Before leaving Aspen, the school showed Porteous and the gathered students an old class photo, which he hadn't expected.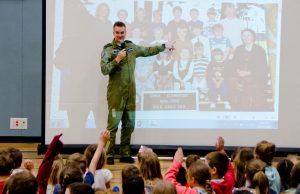 "It was a little bit embarrassing, I must admit," said Porteous.
"I wasn't expecting that. I'll have to thank my mother for the nice mushroom haircut and the collared shirt, but it's a nice piece of nostalgia to look at and see some old friends."
Training for the demo team and the Snowbirds will be ongoing until April 25.