CAMPBELL RIVER, B.C- There have been multiple bear sightings in Campbell River over the past week, and the RCMP say residents need to be more vigilant about garbage and leaving food out.  
Lisa Hunchak, a resident on Maryland Road, caught a glimpse of a bear balancing on her backyard fence on Tuesday afternoon.
"So many bears around Maryland estate right now. There was a huge one in our neighbors yard at 6:00 am yesterday morning," said Hunchak.
"I just feel bad we are encroaching so much on their home."
Hunchak said the balancing bear had been tranquillized and relocated.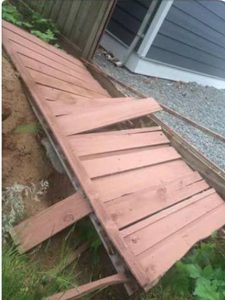 Another resident had a bear break down her neighbours fence on the lower end of Twillingate Road, conservation has since put a bear trap in the backyard.  
"One came last night, tore my neighbors fence down and looks like it tried to take down a glass storm door," said the woman, who wished to remain anonymous.
RCMP media spokesperson, Ron Vlooswyk, said the RCMP in Campbell River get called to an animal issue at least once a day.
"Our officers are out chasing bears," said Vlooswyk.
"They're in town. We are called to a lot of bear complaints. The bears are being attracted into Campbell River because of garbage, bird feeders, barbeques, you name it."
Vlooswyk said we are in the bear's territory.
"They get used to people, Campbell River is now their food source."
The Conservation Officer Service of B.C provides a list of suggestions for how to maintain garbage so as not to attract bears.
Keep garbage inside until the morning of garbage collection

Odorous garbage can be kept inside a plastic bag and frozen until garbage day

Garbage can also be kept in the basement or inside the garage or shed if it is bear proof

Use airtight garbage containers

Businesses/property owners can install

bear-proof garbage bins

Businesses can also construct a bear proof fence/storage area to house garbage until collection time

Neighbourhood garbage conflicts can be addressed through residents being proactive in their neighbourhood

Encourage residents to talk to the neighbour(s) causing bear conflict and help educate them about bear attractants

Garbage should not be left in the back of vehicles or under canopies; they aren't bear proof and will likely get damaged
For more bear information, visit https://www2.gov.bc.ca/gov/content/environment/plants-animals-ecosystems/wildlife/human-wildlife-conflict/staying-safe-around-wildlife/bears