COMOX-STRATHCONA, B.C. – Following a traumatic incident at the Stotan Falls over the B.C. Day weekend, a Vancouver Island woman wants more to be done to prevent further injuries at the popular swimming spot.
Leanne Steel said she was out enjoying a day at the falls with her family on Sunday, August 5th 2018, when she ventured out into the water.
"I just decided to check out the deeper pools with my teenager, and I kept going deeper into the water then I wanted to. I kind of wanted to stay at waist level, so I went to sort of an edge where I saw other people kind of leaning against the edge of the bigger pools like it was a hot tub, so I wanted to do the same thing," she said.
"I just went and put my foot up on a boulder to try and get my shoulders up on the edge and my foot slipped off. As soon as my foot slipped off the boulder, I just felt it being pulled."
Steel said her whole body was then pulled into the water. However, she explained she was in an area that was supposedly safe.
"This was not white water, not even visibly moving water. I was probably at about six feet (where she was pulled in) from actual visible water," she explained.
Steel later posted an image to social media showcasing where she was standing.
"You can see that it's very calm looking water everywhere around me," she said.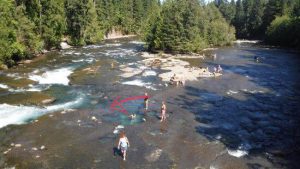 "I was sort of, you could call it, 'lazy rivering' for a while and my daughter said I did sort of a nervous smile. I was trying to grab on to anything I could and everything was slick."
Steel said her family had done their research and worn proper swimwear, including shoes with a heavy grip, before heading to the falls.
"I couldn't get a foot-hold, and then (the water) just sort of sucked me down towards the centre of it and I just saw rapids coming," Steel said.
"I went down each of the rapids fully submerged. Every time I came up to get a breath, if I got dumped back in, it was like a fire hose was put in my mouth. My stomach was full of water. I had my arms and hands up by my head to protect my head."
Steel said fortunately, she encountered a safe zone, before Comox Valley Ground Search and Rescue, RCMP and BC Ambulance crews arrived to assist her out of the water.
"That safe zone wouldn't have existed if the water level hadn't been so low."
STRONG SOCIAL MEDIA RESPONSE
Steel said after sharing her story on social media, she received an outpouring of support, but also a few negative comments.
Most of these comments were focused on proposed changes to regulations around swimming at the falls.
"The people that have been negative, I've just taken it as that people don't like change, and they don't like to believe that what they've been doing could be dangerous, especially if it involves their children," she said.
"I kind of equate it to us learning that the cribs we were using twenty years ago are like little death-traps."
She said her hope is not to start an argument with anyone, but instead to raise awareness on water safety.
INCREASED SAFETY MEASURES
Steel is proposing that a handrail or safety bar be installed in the water at Stotan Falls, at a point where the water becomes more dangerous for swimmers.
This would help water users stay in the safe zone, avoiding future situations like what she encountered. She would also like to see more safety signage on site.
"Some people say that I want to 'pave paradise' and put up all these signs. Well the two things are that it was a man-made fish ladder I went down (to get into the water) and two, the only information you see for Stotan Falls are these amazing aerial videos and personal videos of people jumping into the rapids and jumping into waterfalls (on social media). So it makes all this white water look perfectly safe," she said.
Steel noted that an area like Stotan Falls is growing in popularity; drawing tourists that are not familiar with the terrain and the dangers the area poses.
"Things do need to change because there's people coming from all over the world to see things, and no one's telling them (about safety risks). All they're seeing is these videos and they want to go there," she said.
"Every day that I sit here after this happening, I picture that it could happen to somebody else."
She said she's spoken to people that have supported her idea of a handrail.
"It doesn't even have to be something huge, just a little line (in the water) to not cross because it's not visible from the top. People are easy to say, 'well if you know the area,' but you don't. Not everyone knows every inch of an entire river," she said.
The proposed bar would serve as a barricade for swimmers, so they don't venture out into unsafe waters.
"Just a chest height bar, just something that makes you go, 'oh, this is a point that you shouldn't go past," explained Steel.
She said she would also like to see an informational sign be put up at the falls, informing residents of the safety hazards.
"Everyone's saying 'you stay right', well, who tells you that? That doesn't count from where I was, but everyone keeps saying 'everyone knows to stay right', and I don't even know what you're talking about. I wasn't in the active river area of it (the falls)," she said.
"Maybe something that tells the history of it (the falls), and gives some information and safety (tips) because I've been getting a lot of 'Darwin, survival of the fittest' (comments) and I'm like, 'that's not really fair because you're saying that everyone that's there that's not from (the Comox Valley) should be dead."
Steel said because Stotan Falls, and other bodies of water in the region, are getting more worldwide attention, it's even more important to spread awareness on the hazards people can encounter when hitting the water.
"That's my goal, to just make it so this doesn't happen to someone else. I'm the safest person ever, I'm very cautious in general, especially since having children. Here I was doing the most innocent thing, and I got sent down rapids."
Comox Valley Ground Search and Rescue has been reached for further comment.
Photo caption: The green arrow marks where she was going, the yellow being where she slipped and the red arrow marking where she fell in and was pulled by the water. Photo courtesy Leanne Steel.