HORNBY ISLAND, B.C. – The Hornby Island Community School is coming together, piece by piece.
On Aug. 26, 2018, just days before school was about to begin, a fire destroyed a major portion of the school.
A 25-year-old man was later charged with arson damaging property.
The fire forced the school population, made up of staff and 44 students from kindergarten to Grade 7, to attend school in temporary sites.
Since the fire nearly six months ago, students have been divided into two locations. According to School District 71, the island's community hall and Room to Grow were rented from the Hornby Island Educational Society and the Ratepayer's Association.
"They're not together as one community school at the moment," said School District 71 communications manager Mary Lee.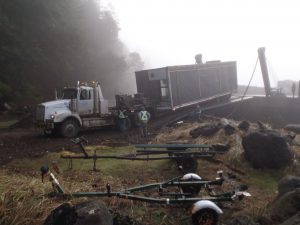 It won't be too much longer before the students are reunited.
Nine modular structures arrived on Hornby Island on Jan. 14. The buildings were constructed in Squamish and then transported by barge to the island.
The structures will form classrooms, one administrative building, and one library.
They were offloaded onto the beach adjacent to the ferry terminal.
"You couldn't transport them by ferry (because) they're too wide," Lee said.
Lee added that it was quite a logistical undertaking just to get the structures onto Hornby Island.
"The site had been prepped and in the last few days, they were craning the structures onto the cement foundation," she said.
Once in place, the structures will be "stitched together" to form independent classrooms, as well as seismically strapped down, according to Lee.
Floors will be attached, the roof will be sealed and walls will be painted.
Then comes the final phase: the installation of the plumbing, heating, and electricity and internet cables.
The timeline for the project is four weeks, with a Feb. 19 target date for the students to move into the school.
"That's the goal; that's the earmark, to make sure that these kids are put back into their own school, a place that they can call their own, and most importantly, back onto the school property," Lee said.
A play structure was untouched by the fire, she noted.
The project was financed by $1.5 million in emergency funding made available by the B.C. Ministry of Education, "so it doesn't come out of the district's pocket," according to Lee.
School principal Alissa Pratt thanked the school district, province, community, and Comox Valley for their support and encouragement.
Pratt said the students are "quite excited" to see the new buildings being put into place and the foundations being poured.
Lee added, "they have been positive throughout, the excitement is building, there's certainly been some resilience among them, always maintain that positive attitude, and I think a lot of that can be extended from the fact that there's been so much of a community outpouring for support."