Story by Natalie Nguyen
COMOX VALLEY, B.C. – The Comox Valley Kickers women's rugby team is rolling.
The Div. 1 squad outscored the visiting Nanaimo Hornets 40-24 last weekend at Cumberland Village Park, as rugby resumed after a league-wide pause for the HSBC Canada Sevens tournament.
On Saturday, the Hornets scored first, which provided the Kickers with a sense of urgency to answer back right away and helped kick start a comeback.
In an evenly matched game, Nanaimo's defence was sound and very fast to advance, which made the Kickers' backline use quick hands to get the ball out wide.
Comox Valley lock Cailey Collins and winger Kristianna Bouwers each scored twice with outside centre Daris Tendler adding a single try.
Fly half Paula Simpson scored a one try to go with five conversions.
"Our team came in ready as they knew it would be a hard and physical game. Every person on the pitch rose to the occasion, from the forwards who worked hard to produce good balls to the backs who made good use of every opportunity," said Kickers coach J.P. Lussier.
"There are still things we still need to work on, especially with our next opponent being the Meralomas, who are the defending BCRU Division 1 Champions. Next week will be another hard and physical game."
Next up was the Kickers men, who fell 52-31 to visiting Westshore RFC.
The opposing team started off fast, putting up four unanswered tries in the first half.
With their backs up against the wall, the Kickers came out blazing to start off the second half.
Inside centre Stephen Hextall led the charge by scoring three tries, with flanker Brandon Hudson adding two more scores.
Winger Ethan Pellett added three conversions.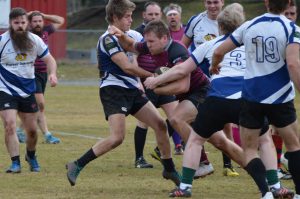 "Westshore had all the momentum in the first half. I'm proud of how our guys stepped up their game in the second half," said Kickers Captain Brandon Hudson. "We made our tackles, our line outsmy and scrums were strong and our backs ran good lines. It was just a little too late as we were against the clock."
The Kickers women are back in action against Vancouver's Meralomas this Saturday at 11:15 a.m. at Cumberland Village Park.
The Kickers men have a bye.
Both the Comox Valley women's and men's teams are still recruiting players for the season.  No experience is needed.  For more information, visit comoxvalleyrugby.ca or email [email protected]