STORY BY TRICIA MASON, MYCOMOXVALLEYNOW.COM
COURTENAY, BC- Former North Island College president Lou Dryden has been honoured by the school he loved.
Dr. Lou Dryden was the college's third president, and served the college for twelve years before retirement.
Dryden was originally from Australia, and moved back home to live around family.
He was diagnosed with ALS and passed away on June 17, 2018.
Faculty, students and friends apart of the North Island College decided to honour Dryden by re-naming the Comox Valley trades building atrium to the Dr. Lou Dryden Trades Training Atrium.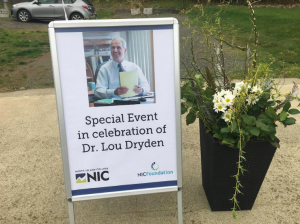 The new name was unveiled on Tuesday.
"Lou had a great impact on NIC and the community," said Randall Heidt, Vice President of Strategic Initiatives and North Island College Foundation Executive Director.
"It was just really special to honour him today and to hear all the great stories about how he helped people, I think that is a really important thing that we all need to do in life and so we are very happy to honour him."
Dryden was very well known for going the extra mile for students by getting the funding for the trades building that has now been dedicated to him.
He also started a student success bursary, donated to start it off and it's been raising money for students who may need some financial support.
"We talked to one of his student recipients, she wants to donate herself," said Heidt.
"She wants to help other people like Lou helped her. That is really that circle of giving that we want to continue for people to help each other. That is really what life is about."
Dryden made sure to fight for what he believed in.
"He was ahead of his time, he really saw a lot of things around Aboriginal education and around us having our own degrees here around us, having trades, having women in trades," said Heidt.
"Many of the things he planned we are doing now and so it is just great to honour him in this special way."
Lou impacted more than the students and staff around him. He touched the lives of his wife, kids and grandchildren.
"They should all know his caring of the students and the college, and just his passion for education and learning," said Paula Dryden, Lou's wife.
"He didn't just do it and shut the door, he was always walking the hall with the staff and students."