COURTENAY, B.C. – Naomi Kerr was the owner of one very lucky duck.
Kerr was the grand prize winner of the annual Ducky 500 race held along the Puntledge River on Canada Day Monday.
Her rubber duck was the first to float over the finish line under the 5th Street Bridge.
The win nets Kerr a three-night trip for two to Grizzly Bear Lodge along with tours and a float plane service, or $5,000 cash.
Every Canada Day rubber ducks are floated along the Puntledge River as part of Courtenay's celebrations. 
Rotary members sell 6,500 tickets. Each ticket has a number, and a matching number is put on each rubber duck. 
The ducks are all put in the river at the same time and the numbers of the 10 ducks that reach the finish line first are used to determine the raffle winners.
Michelle Hicker's duck came in second. She wins a family getaway for four to the Calgary Zoo, including car rental, or $3,000 cash.
Third place went to Jennifer McDuff, who won a two night's stay at Painter's Lodge, or $1,500 cash.
Ticket sales benefit charities and projects in and around the Comox Valley including Dawn to Dawn, Hospice and the Transition Society.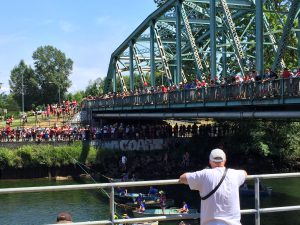 Ducky 500 chair and Rotary Club of Comox director Tom Miller said ticket sales were brisk.
"Selling out isn't unusual but selling out as early as we did… usually, we have quite a few tickets left on the day of that we sell at the parade but this year we only had a handful," he said.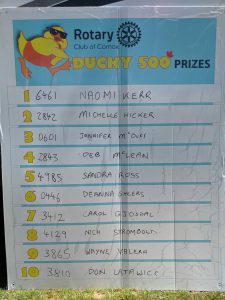 Miller said the Ducky 500 has been a staple for 32 years and has a strong reputation for doing good things in the valley.
"I think a lot of people appreciate what the event does for the valley and for a lot of organizations in the valley," he said. "People seem to get behind it."
It was an overall great day, Miller said: "A lot of Rotarians put in a lot of work so we had a lot of good compliments and good word about how the event was run and how it was organized, so overall we were very happy with how it turned out and happy with the weather because two weeks ago they were calling for rain."
The three grand prize winners will be invited to a Rotary meeting to receive their prizes.