OYSTER RIVER, B.C. – Once again, the search is on for Fergus the Fox.
Someone stole the driftwood sculpture over the weekend.
It was last seen Saturday morning at its home on the Oyster River Nature Park trail.
It was missing on Sunday.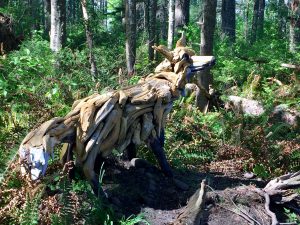 This isn't the first time the sculpture created by Campbell River artist Alex Witcombe of Drifted Creations has been stolen.
It was taken from its previous location in the Beaver Lodge Lands trails last May and returned to the Beaver Lodge parking lot a week later.
READ MORE: Stolen Fergus the Fox sculpture returned
If you have any information as to Fergus' whereabouts can contact Drifted Creations via Facebook or email at [email protected].
 "With your help and support we managed to get Fergus returned when he was stolen last year from the Beaver Lodge Lands, hopefully, he can be located again!" Drifted Creations said in a Facebook post.