CUMBERLAND, B.C – Three people have suffered injuries following a rollover crash this afternoon.
The crash happened southbound on Highway 19, just before the turnoff towards Cumberland.
Comox Valley RCMP, BC Ambulance, and Cumberland Fire Rescue all responded to the scene.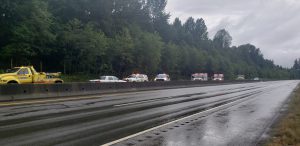 Cumberland Fire Chief Mike Williamson says the quick change in weather likely led to the crash.
"All of a sudden we got a huge downpour of rain, caused some hydroplaning here on the highway, the car went off the road and rolled over."
There were three patients in total and Willamson says one patient had to be extracted from the car.
"We just put a couple of cuts in the back window and then put a ram in, dropped the roof and slide her straight out."
After leaving the scene, ambulance crews took one of the three people to the Courtenay Airpark to be taken to hospital by helicopter.
Due to bad weather conditions however, the patient was taken to Comox Hospital.