The 25th edition of Vancouver Island MusicFest hit all the right notes over the weekend.
Marketing manager Sue Wood said a music festival hitting the quarter-century mark is a remarkable achievement.
"As we have said for many, many years, it is only possible because of the great support from the community and the over 1,300 volunteers that come together each year to make it happen."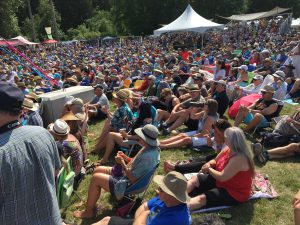 Wood said the three-day festival at the Comox Valley Exhibition Grounds didn't sell out this year but was very close to hitting that mark.
"I can tell you there were many thousands of happy festival-goers this weekend," she added. 
A mixed weather bag that included rain didn't deter concert-goers, Wood said: "Typical Vancouver Island folk, nobody ran away from the rain, they just hunkered down and enjoyed the music."
A highlight for Wood was the eclectic mix of artists brought to the valley by artistic director and executive producer Doug Cox.
"The thing that amazes me every year is those great combinations of performers and musicians that Doug Cox organizes and puts together and they never get to play with each other that way, and they do here," she said. "And every time they come together and do that, it is a highlight."
https://youtu.be/45_zCTgXl_8
Among the headliners were Colin James and Tom Cochrane, and Wood said the Juno Award winners didn't disappoint.
"Colin stayed for most of the weekend. He did a bunch of workshops and things and Tom's show was outstanding as was Colin's and the crowds were out of their mind for both of them. I think they had a great time because they spent most of the weekend with us."
Reflecting on the weekend as a whole, Wood said the festival ran incredibly smoothly.
"There were no hiccups at all," she said. "It was a really lovely festival. We had a great vibe out there all weekend. Everybody had a really lovely time and it's a good one, for sure."