It's a smooth move by the Courtenay parks department, after upgrades to the courts at Martin Park.
The renovations means lacrosse, pickleball, and ball hockey players can expect smoother shots and better games on the newly upgraded playing surface.
The renovated facility at 20th Street and Choquette Road, and include lacrosse lines as well as six pickleball courts. 
On top of fresh paint, the work has smoothed the previously bumpy court surface.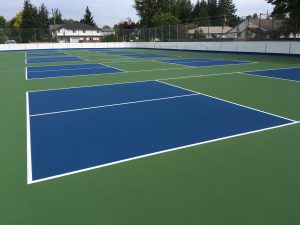 The city's parks manager Mike Kearns said the plans have been in the works since last year in consultation with user groups.
 "We've been working with the sports groups that use the facility to accommodate their respective needs, and we've all been looking forward to the reopening of these new and improved courts," Kearns said. 
"The contractor has done a fantastic job and we're really happy to offer these upgrades to the community."
 While there were initial challenges securing a contractor that could complete the work in 2019, Victoria PlayCo was able to fit the project this summer thanks to favourable weather conditions that created an opening in their project schedule.
 User groups wishing to book the Martin Park facility should contact the Lewis Centre at 250-338-5371.
 To learn more about parks and playing fields in Courtenay, click here.