An electrical malfunction is believed to be the cause of a fire at Living Room Pharmacy.
Firefighters were called to the fire at 6:30am this morning.
When they arrived, flames were showing through the roof at the front of the building at 1575 Cliffe Avenue.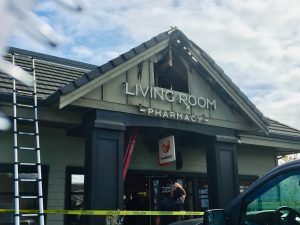 Courtenay fire chief Don Bardonnex said three trucks and 20 firefighters responded. 
Bardonnex noted that water was coming down, meaning the sprinkler had activated.
He added that firefighters worked quickly to limit the damage.
"Crews opened up the soffits in the front of it, extinguished the fire, and other than some water damage and light smoke in the building, the fire didn't get into the main structure," he said.
While crews were on scene for an hour, Bardonnex said it only took three minutes to knock down the fire.
"And then it was cutting the building apart to make sure it was out and to shut off the sprinkler," he added.
Bardonnex confirmed that the cause of the fire "was electrical."
"(It was) that sign that was on the front of the building," he said.
The store has already re-opened.