The organizers of today's climate strike in downtown Courtenay hope their message is being heard.
Led by Youth Environmental Action, roughly 3,000 people gathered at Simms Millennium Park before marching through the city.
They held signs that read 'Don't be a fossil fool,' 'We are killing Earth,' 'I was hoping for a much cooler death,' and 'The dinosaurs thought they had time, too.'
Their message: that action needs to be taken now to curb climate change and make the planet habitable for future generations.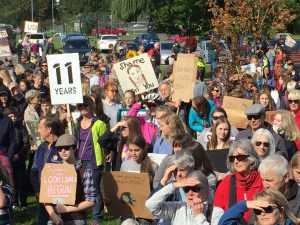 The planet is warming at a rapid pace, and the last five years have been the warmest on record. 
Canada's climate warming has been double the global average, and even greater at northern latitudes. 
NASA notes that 18 of the 19 warmest years have occurred since 2000.
As well, marine heatwaves, warmer rivers and lakes, food web changes, increased floods and droughts, and other freshwater habitat changes are all affecting salmon.
That why Youth Environmental Action members including Emma Faulkner, 14,  say that what they are doing is important.
"I think people are going to listen," she said.
Faulkner said environmentally friendly initiatives including free electric buses, cutting down on single-use plastics, and switching to solar power and electric vehicles are a good start.
Youth Environmental Action's Mackai Sharp told the crowd that the number of glaciers on Vancouver Island has dwindled from 170 to five. 
"With their death, leaves history and stories that have been told for thousands of years. Today, here in the Valley, we will protest this greed and lack of action taken by our government and those around the world."
He said Youth Environmental Action isn't just a group that protests.
"We are fighting for policy, educating our community, and changing the dialogue around the climate and youth activism. What we are doing here today is paramount for our future and those who come after."
Fellow group member Nalan Goosen said he was blown away at the turnout.
"It's so powerful. I feel so uplifted and so positive by this," he said.
"I think if we keep raising our voices and keep on putting pressure on the governments and big companies, we will get them to change for the positive, for the environment."
Youth Environmental Action is dedicated to empowering and educating youth on climate change and how to take action to fight our climate crisis.