Campbell River-Opoly?
Yep, it's a thing, after a Canadian manufacturer put a local spin on the classic board game, Monopoly.
Outset Media partnered with Walmart Canada to launch a limited edition game that shines a light on all things Campbell River.
This game takes a distinctive local spin on the classic game of Monopoly, where the properties and places are community staples. 
Landmarks and attractions featured include Quinsam River Hatchery, Discovery Pier, Painter's Lodge, Big Rock and many others.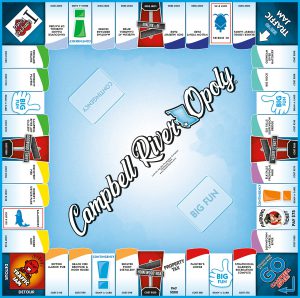 Outset Media senior vice-president, Jean-Paul Teske, said the product should be available this week, exclusively at the Campbell River Walmart.
"We are working with Walmart, they're doing a similar program in the U.S. that is focusing and celebrating towns and cities across the United States and they have had great success. They asked if we would be able to do the same in Canada, and we said absolutely, we would love to."
Walmart managers across Canada were asked if they were interested in selling a hyper-local Monopoly game.
"Campbell River was one of them," Teske said. "We created the game and we just shipped it last week so it will be in (the store) this week."
The research was done by employees in Outset Media's Victoria office and the wonders of the internet made it "relatively easy," Teske said.
Teske said that essentially, the game plays just like Monolopy: "You're buying properties and once you buy a certain amount then you put homes on them and you have to pay for rent on the spots. The most expensive property is basically just downtown Campbell River. I know it's a little bit of a cop-out but we do have Elk Falls Provincial Park on there as one of the more expensive and then Alder Street."
There are only 720 games available so Campbell River-Opoly could become a collector's item.
"Once it's done, that's usually about it," Teske said. "It's over."
Ontario communities that have their own Monolopy games include Peterborough, Sarnia, and Brampton, just to name a few. 
Across Canada, there are roughly 50 games focused on specific communities.