Some residents are concerned for their safety after the crosswalk lights at 5th Street and Menzies Ave don't light up when they are pushed.
Comox Valley resident Nicole Roberts says she wants drivers to be extra careful because even if the lights are out, pedestrians still have right of way.
"I noticed that this was something that is happening on a regular basis in the Comox Valley and I was just thinking maybe it would be a good idea to remind drivers and pedestrians what the laws are when crossing at a crosswalk because I believe pedestrians are lawfully allowed to cross at a crosswalk when safe to do so," said Roberts.
She added that at one intersection a sticker was placed on the light to let people know they don't work, but that doesn't solve the issue.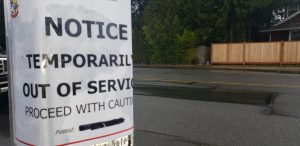 "That doesn't help the drivers know that the pedestrians can't make the flashing light work. It's getting darker now, and I'm just worried somebody's going to get hurt."
The MyComoxValleyNow.com newsroom reached out to the city and it says because it has not received an official report from anyone about the lights, it can only comment that it's looking into the issue.
At the time of this publication, the lights at the intersection do not work.