5 Affordable Ways to Create Attractive Backyard "Spaces"
Think your yard is just too small or plain to create your dream sanctuary? Think again. Here are a few ways to take your plain backyard and create multiple Zones Of Happiness (ZOH):
ZOH Idea #1: Create a finished platform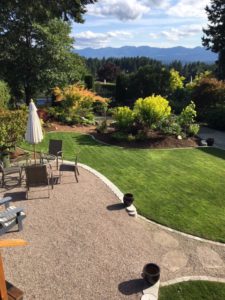 This is your starting point. Add a deck or patio alongside your home. For a clean, modern look, go for straight edges; for a more easy-going, flowing feel, add some artistic curves. One affordable way to do this is to use CORE Path: a cost-effective gravel stabilizing grid foundation used to create beautiful gravel patios; where tables and chairs and fire pits come together to make the perfect relaxation space.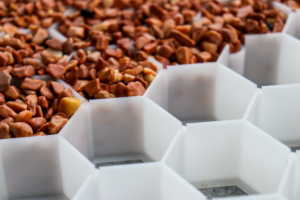 Lightweight, easy to install and cut to shape; CORE path allows you to use local gravels, as well as your own affordable labour, to create a finished area at a fraction of the cost of using pavers or decking.
ZOH Idea #2: Add privacy to your patio

You now have a patio, but your neighbours can see right in. So… add a few privacy screens. Installing a decorative privacy screen can be a simple or more creative endeavor, depending on our skillset or budget. Your area will remain light and airy, offer privacy, and bring works of art to your own private haven!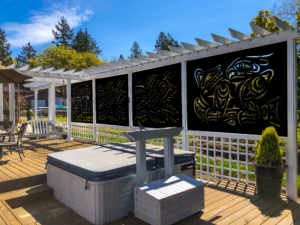 Check out Noel Brown's art in Coast Salish line of privacy screens. They're especially important around a hot tub!
ZOH Idea #3: Create separate, defined spaces connected by a path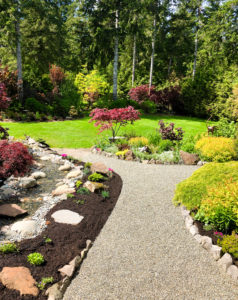 Building a pathway off your platform adds a unique and attractive way to move through your yard. Create a straight or winding path, your choice, and lead the walker to a new space in the garden such as a sitting area, built under a pergola or simply surrounded by plants. Using the affordable CORE path product once again, you can create either a pea gravel path , you can create either a pea gravel path, or a flagstone path surrounded by pea gravel.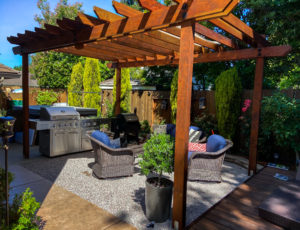 Your new sitting area can be 'hidden' from the rest of the garden with taller shrubs, potted plants, or privacy screens. [For a wheelchair compliant surface, stick with the CORE path and gravel surface only.]
ZOH Idea #4: Break up the monotony of long, boring fencing or walls

Add a vertical garden to create a truly dynamic look. This will add colour and variation to your fence line as well as offer a 'place to visit' at the end of your garden path.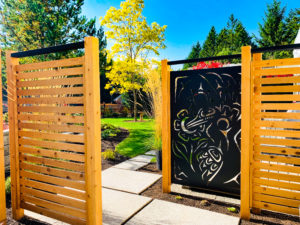 Alternately, you can simply add 'art' to your fence, using any of the various art works found in the Noel Brown privacy screen collection, Neat Facades, or Modinex.
ZOH Idea #5: Add something "Special"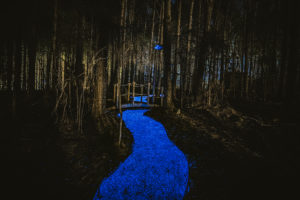 You now have little oases throughout your yard. Time to make it magical! Take those dark isolated corners and add just a splash of light. Soft light. Like the lights of a starry night, full of your favourite Greek Gods. You can do this by adding CORE Glow stones on your gravel surfaces, in your concrete, or in plant pots.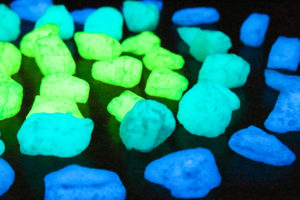 Some of these glowing stones are even great for making hanging glow features! The kids can even make their own, and hang it outside in the sitting area. The possibilities on how to incorporate CORE Glow in your yard are endless!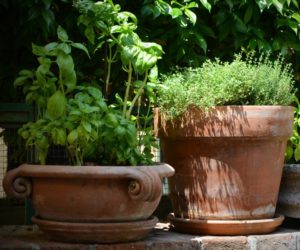 Once you've got a great framework in place (per above), you are 95% done! From here, you can simply add a terracotta pot or 10 throughout your new ZOHs containing your favorite edible flowers or herbs. Label them and send your favorite people out to collect from them for your summer salad or chicken garnish. Your new Zones of Happiness are now complete. Enjoy!
---

Phone: 1-855-777-2673 (CORE)
Email: [email protected]
Website: www.coregravel.ca
---