A fallen hay bale is to blame for a massive Canada Day fire that destroyed three barns in Black Creek.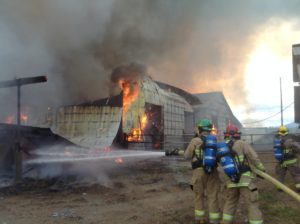 Fire crews from the Oyster River Fire Department were called to the fire off Macaulay Road yesterday morning.
Oyster River Fire Chief Bruce Green says a bale fell off a skid steer and landed on a hot exhaust, sparking the blaze.
"Because the hay's so dry and the exhaust was hot, it was fairly quick. There was decent wind there yesterday and it just spread from what the residents told us. Within four to five minutes, all three of the barns were burning."
Green says all of the barns involved in the fire are a "total write off."
However, he says crews were able to stop the fire from spreading to a fourth barn.
The Courtenay and Campbell River fire departments were also called in to assist.
https://www.youtube.com/watch?v=8LmfqeekXXg
"We responded with one water tender and one fire engine. I also responded to the scene," says Campbell River Fire Chief Thomas Doherty. "Our engine crew was assigned to assist in suppression efforts immediately when they arrived and our Water Tender shuttled water from a nearby hydrant to the scene."
A total of three tanker trucks supplied water as no fire hydrants were in the area.
Crews were on scene till around 7:30pm.
There were no injuries and no animals were reportedly hurt.