COURTENAY, B.C- A group of home owners is asking the City of Courtenay to change the way they get billed.
Led by Dennis Thomas, residents of The Woodlands, a strata home development near Lerwick Nature Park in Courtenay's east end, showed up to the meeting of city council on April 16. With the audience seats filled by the residents, Thomas addressed council, asking for a change to the way bills for city services are sent to home owners.
Due to the Woodlands development being run by a strata corporation, all bills for Courtenay's city services such as water, garbage collection, and sewer fees are sent to the corporation for payment, instead of individual home owners.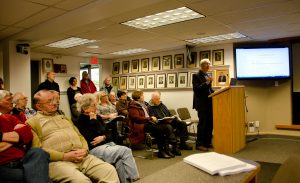 According to Thomas, this system has resulted in residents of the area paying higher rates for such services due to the strata corporation multiplying the costs, based on "unit entitlement", which is the system that pays for common expenses.
The concern of the residents was that they are currently paying higher rates on city services for their individual properties, based on the size, due to those bills being sent to the corporation by the municipal government. They were asking for the system to be changed to allow for individual billing.
"We have owners paying what amounts to almost double of what the city and the region has decided that water should cost, and that's not fair," said Thomas, after his presentation.
"I'll use a different word, that's wrong."
He mentioned during the presentation that Comox already did direct billing of strata residents for city services, which Comox mayor Paul Ives confirmed on Wednesday to 98.9 The Goat.
Any change to the unit entitlement rate would need to be unanimously approved by all residents of the strata, which Thomas indicated was a difficulty.
Lorri Fugle, a Strata Manager with Advanced Property Management, also indicated that not all residents of the Woodlands were present at the meeting, and not all of them would support a change.
Thomas's words did find some traction amongst council, though a decision on the matter was not reached on Monday evening. According to Mayor Larry Jangula, municipal staff have been telling council that the billing issue was a provincial responsibility.
"I don't understand why we can't take a second look at that," said Jangula.
"It does seem rather unfair that in the same unit, depending on your floor size, one person the amount that they're charged for water and garbage is 35 or 40 per cent more than someone in a smaller unit. We don't charge bigger homes more money for their water, their garbage, or their sewers. It's a frontage tax, a home tax."
Jangula believed it could take several months to solve the issue, and mentioned that the situation has been ongoing for the past three to four years.
However, he did want to find a solution.
"Quite frankly, they made a very good argument for a change, and it makes sense," said Jangula.
"If we're talking about fairness, that's really what they're talking about, than why not be fair?"