COMOX, B.C. – The Town of Comox is celebrating after its Twin Sail Buildings along the Comox Marina picked up two awards from the Vancouver Island Real Estate Board (VIREB).
The buildings received the Award of Excellence – Community Amenity from the commercial division of the VIREB. The Town's structure also earned the Judge's Choice Award on April 19, 2018.
Speaking with 98.9 the Goat, Comox Mayor Paul Ives said he was very happy with the honours.
"It was nice to see those buildings receive recognition for their contribution to the town's amenities at Marina Park," he said.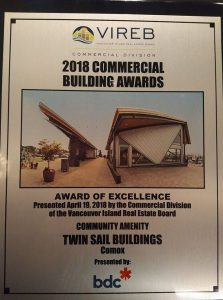 "Since they opened last spring, we've seen lots of activity down there (at Marina Park). Of course, the water park is a big hit and we were really pleased to get that recognition."
The Commercial Building Awards recognize outstanding workmanship and design in commercial buildings within the VIREB's area (from the top of the Malahat to the northern tip of Vancouver Island).