A new plaza that pays tribute to a local father, husband, son, brother, and friend is now in place.
The plaza is at the concession area at Courtenay's Lewis Park, near Diamond One. 
It features the insignia "Never Forget #9". 
This acknowledges the event of August 2017 when Chris Godfrey sustained a head injury during a slo-pitch game at Lewis Park and later lost his life.
The Comox Valley Slo-Pitch League has now made helmets mandatory within the league. Helmets can be seen with "Never Forget #9", which has inspired the insignia and is a reminder of safety in sport.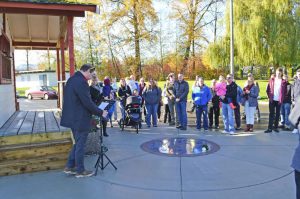 The city's director of recreation and cultural services, Dave Snider, says the plaza is an extension of that reminder.
"They use that as a reminder for sports safety and we've now created this plaza with that insignia in the centre of it, Never Forget #9. It's in an aluminum structure built into the plaza itself."
The project is partially funded by the former Comox Valley Fields of Dreams Society, and Tayco Paving and they discounted their work in memory of Chris.
On top of honouring Chris, the city says the plaza also improves drainage, safety, and accessibility at the diamond.
Snider spoke about the upgrades that were included in the construction: "There was vegetation in the area behind the ball diamond #1 that was removed a while ago. With the removal of that vegetation, the sidewalk just stopped and so this is an extension of that sidewalk.
"We built into the small plaza an accessible let-down so that there's now a place where folks with mobility issues can get into the back of the ball diamond. It ties into the back of the existing concession and provides access to the bleachers. It also beautifies the area a little bit so it's stepping the area up a little bit."