Every Wednesday at 3:10pm, Mack and Woofy's Pet Foods team up to feature a new local adoptable pet from one of our amazing island rescues.
This week we got to meet Spirit from Island Pacific Dog Rescue Society!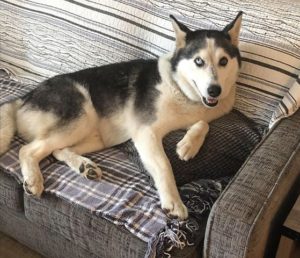 Spirit is looking for a fun family with some experience in handsome huskies! He's 5 years old, neutered, and has been trained since he was a puppy – no accidents for this guy! He's a classic husky howler with a love of exploring and playing with other dogs.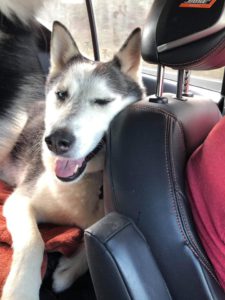 Home Life:
Spirit comes with all the bells and whistles, like sit, stay, down, leave it, and more! He loves a good play with other dogs (of all sizes!), but has not been tested with children. Spirit would do great in a home with older or no kids, no cats, and some dog friends to hang out with!
He's good for a game of fetch, a cuddle on the couch or a hike up the mountain! Spirit is amazing with dogs off leash, but can get reactive when on a leash. His new family will need to be willing to work on his reactivity. A fenced yard is a must for Spirit as he likes to explore.
History: 
Spirit has no health issues, however he does need some work with training. He is a strong dog who requires a pack leader otherwise he will assume the role. Along with working on leash reactivity, Spirits new family will need to work on introductions to strangers as he can get protective of his home. He is a lady lover at heart and can be weary of men, especially of the bearded variety – but with some love and time, Spirit will be ready for anything.
About the Rescue: 
Island Pacific Dog Rescue Society is a non-profit based out of Qualicum Beach but has their adoptable animals in foster homes all across the island.
They have lots of opportunity to get involved, whether it's volunteering, fostering, or donating!