Every Wednesday at 3:10pm, Mack and Woofy's Pet Foods team up to feature a new local adoptable pet from one of our amazing local island rescues.
This week we got to meet Honey from Kitty Cat P.A.L.S.!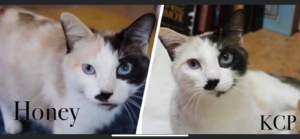 Honey is just one of a handful of young moms who were brought in to KCP expecting kittens! All of her kittens have been adopted out, and Honey is now on the hunt for her forever home. She really is as sweet as honey!
Home Life:
Honey is approximately 3 years old and was brought in as an expecting mother. Now that her kittens have been adopted out, Honey prefers a quieter lifestyle with her humans right by her side. She's cuddly, affectionate and great with kids! Honey is intimidated by dogs and loud noises and will go into defence mode with a dog in her vicinity;  a no pet or cat-only home is required for Honey. Her foster home says she loves to cuddle up next to you on the couch and loves to be brushed!
History: 
Honey was brought in to KCP as an expecting mother. She was placed in a foster home and gave birth to 5 healthy kittens who have now been adopted out to their forever homes. Honey was a feral cat who has been transitioned to be an indoors only cat and is LOVING it!
About Kitty Cat PALS:
Kitty Cat Prevent A Litter Society is a non-profit based out of Comox, BC. Their mission is to trap, neuter/spay, and relocate/adopt out cats to ensure there are no more unwanted litters on the streets!
They have plenty of volunteer opportunities available through the rescue, from kitten cuddlers, clean and care to the admin side of things – if you're looking to get involved, KCP will gladly accept the help!
They also accept monetary and physical donations to support the non-profit! Donations of kitten replacement milk, blankets, cat food & so much more are all accepted and encouraged! Head to kittycatpals.com to check out the list of it
ems you can donate!