Every Wednesday at 3:10pm, Mack and Woofy's Pet Foods team up to feature a new local adoptable pet from one of our amazing island rescues.
This week we got to meet Crush from CR PAWS!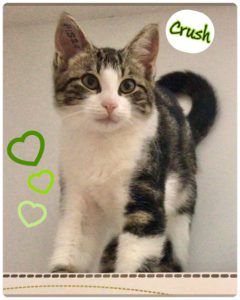 You'll get why they call this fella Crush – he is SO cute you'll crush him with cuddles!
This 4 month old kitten is currently in foster care with his litter. He'll follow you around everywhere you go like a little brother tagging along on the fun. He's got a knack for knowing when you need some extra loving too!
Home Life:
Crush should be an indoor cat as otherwise he would spend all day trying to meet everyone on your block! Crush would thrive as a therapy companion, or just with a home who could use an extra cuddly cat. He continues to come out of his shell and become more loving and outgoing. As a kitten, he has not been tested with dogs/kids, but easily adaptable due to his young age.
About CR Paws:
CR Paws is a non-profit registered charity based out of Campbell River and servicing felines on the entire North Island! They focus on controlling the feral cat population and preventing unwanted litters with their Trap and Neuter/Spay program. They work in collaboration with the Facebook group "Lost and Found Animals of Campbell River" to help animals find their way back home, or find their new furever home, whether it's with an adopter, a feral colony or as a barn cat!
Their available animals can be viewed through their website, campbell-river-paws.web.app or on their Facebook page, CR Paws.
Donate:
With kitten season upon us CR Paws could use all the help they could get! You can make monetary donations through their website, or donate product as well! They also have a awesome partnership with Woofy's where you can donate your points towards the non-profit of your choice. They are always in need of items like kitten milk replacement, litter, food and bedding.
CR Paws also accepts non-animal items, like gas gift cards.
Volunteer: 
There are a bunch of volunteer opportunities with CR Paws available for every area of interest. Roles like trapping, drivers, feeding, fundraising, admin, fostering and more!
The easiest way to help the cause is to spread the word! The more people who know about the work CR Paws does, the more successful they'll be helping animals!