Every Wednesday at 3:10pm, Mack and Woofy's Pet Foods team up to feature a new local adoptable pet from one of our amazing local island rescues.
This week we got to meet Dallas from Raincoast Dog Rescue Society!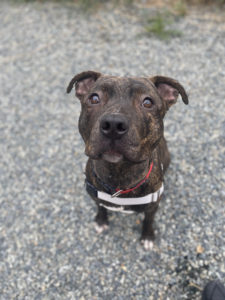 Dallas is a young brindle Staffordshire Bull Terrier mixed breed. Dallas lives and loves fast, with a little bit of training he'll be the perfect addition to your family!
Home Life:
Dallas is one cute ball of energy! This sweet boy is working on his leash training as he has a habit of following his nose. Dallas is looking for an active family, or someone who has the time and patience to continue his training. Dallas has been friendly with dogs he's met, but has not been tested with cats or children. More to come on Dallas as the Raincoast team learns more about him!
History: 
Dallas is about 1-1.5 years old, and was recently taken in from Coastal Animal Services in Duncan. He was previously unneutered, and RDRS will ensure he is before he's adopted out.
About Raincoast Dog Rescue Society:
Raincoast Dog Rescue is a non-profit based out of Shirley, BC that was started in 2014 by founder, Jesse Adams. They adopt out dogs all over the country and even internationally! Raincoast Dog Rescue has about 6 animals up for adoption at the time, which can be viewed through RaincoastDogRescue.com. 
There are a bunch of ways to help, even if you can't adopt at this time!
Foster / Foster to Adopt :
These require applications to be filled out – but Raincoast supplies all the food, crate/kennel, toys, treats, accessories and more for your help!
Donate: 
RDRS runs a service called Raincoast Pet Project with the Salvation Army. They take donations of new or used dog/cat items from the community and distrubite them to low income families or the homeless to ensure their pets are taken care of. You can reach out to Raincoast to arrange a donation.
Monetary:
You can donate any time through their website – just click on the "DONATE" button.